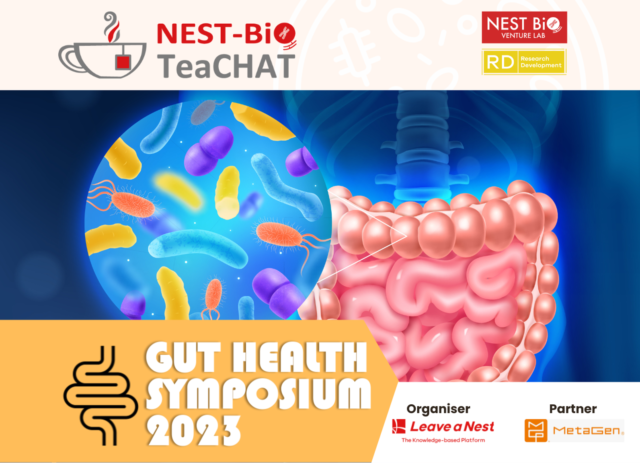 NEST Bio TeaCHAT is an interactive discussion platform for Biotech and life science corporates, startups, or researchers to tackle scientific and social issues. This platform could be a springboard for stakeholders to create new value via project creations and collaborations. 
Leave a Nest Malaysia is pleased to announce the upcoming NEST Bio TeaCHAT will bring in the Gut Health Symposium theme. This hybrid event features leading experts in the field of gut microbiota and gastrointestinal health.
The symposium will take place on 8th February 2023 and will explore the latest research and developments in the understanding of gut health and its impact on overall well-being. Participants will have the opportunity to hear from top scientists, clinicians, and industry leaders, as well as participate in interactive Q&A sessions and networking opportunities.
The first panel discussion session for the event will dissect on the topic of Understanding our Gut Microbiota; from lab to industry to society. This will be followed by the second panel discussion session that will address the topic of Corrective and Preventive actions in Gut Heath. The final session will be a Medical talk that will be shared by speakers from Japan entitled "Gut Microbiota for the next generation health & medical care; New approach by frontier science and technology from Japan".
The Gut Health Symposium is designed for professionals in the healthcare and nutrition fields, as well as individuals interested in learning more about the importance of gut health and how to maintain a healthy digestive system.
We invite you to join us for this exciting event and take the first step towards improving your gut health. Register now to secure your spot.
Details of NEST Bio TeaCHAT: Gut Health Symposium
Date : 8th February 2023
Time : 1:30 – 6:00 pm (MYT) 
Venue : Bilik Mesyuarat Aras 3, Blok Tambahan,
            Hospital Canselor Tuanku Muhriz (HCTM), UKM
Registration link  : https://nlab.lne.st/NBTC23_Reg 
or
QR Code for registration:
Time (MYT)
Agenda

1:30 pm

Registration 

2:00 pm

Opening ceremony

2:30 pm

First forum session: Understanding our Gut Microbiota; from lab to industry to society

3:30 am

Second forum session: Corrective and Preventive actions in Gut Heath

4:30 pm

Break | booth

& poster

discussion | Online Registration

5:00 pm

Third session: Online Seminar

6:00 pm

Closing ceremony & photo session
Stay up to date on all the latest news and information by following us on Facebook and LinkedIn!